The theme of this trip was "Be here now". I really wanted to try to stay in the present moment because, not only has it been way too long since I've traveled, but this would be my first time traveling with a man I love. I had very high expectations and wanted to savor every moment.
Arrival into Prague via taxi had us cresting over Petrin Hill where we got our first glimpse of the stunning Prague Castle, Old Town and the famous Charles Bridge. Everything was so old and intricate and very, very clean. It was lovely! We arrived at our hotel, The Alchemist, in Malá Strana. Malá Strana is one of the districts of Prague that literally translates to "Little Side" but is more commonly referred to as "Lesser Town". The name of the district derives from its position on the left bank of the river Vltava, at the base of the Prague Castle. I chose this area to stay in because it's much quieter than Old Town and New Town across the river and was reported to have hilly cobblestone streets lit by lanterns that would be close to deserted while the youngsters played across the Charles Bridge. Immediately upon entering the hotel we were given a welcome cocktail of their house made sparkling wine and numerous apologies for not having had a car for us at the airport. They were wonderful and the hotel was gorgeous – over-the-top – lots of gold and rich fabrics and antique furniture and even a stuffed boars-head on one of the walls. Everywhere you looked was something different and unique.
Our room was decorated in a similar vein. Even the beams on the ceiling were hand-painted in swirls and flowers and grapevines.
The hotel hosted a free nightly wine tasting so we figured why not? Almost immediately upon sitting down with our wine, another couple in the lounge asked where we were from. Come to find out they were from Charlotte as well! We ended up sharing our stories over some lovely wine. It was a nice way to begin the trip.
First thing to do? Cross the famous pedestrian-only Charles Bridge and wander around Old Town until we found some dinner.
The Charles Bridge is a historic, Gothic-style bridge that served as the only means of crossing the river until 1841. It was named after King Charles IV and is protected by three towers – 2 on the Lesser Town side and one on the Old Town side of the river.  The bridge is decorated by a total of 30 statues, mostly in the baroque style, originally erected around 1700. But now they are all replicas – the originals are kept in museums for preservation.
It was a beautiful evening and the bridge was packed with tourists and locals artists hawking their wares. Every direction you look from this vantage is awesome. I've been to many places in my travels but have never been anywhere where the architecture of the buildings was so ancient and yet so intact. Breathtaking!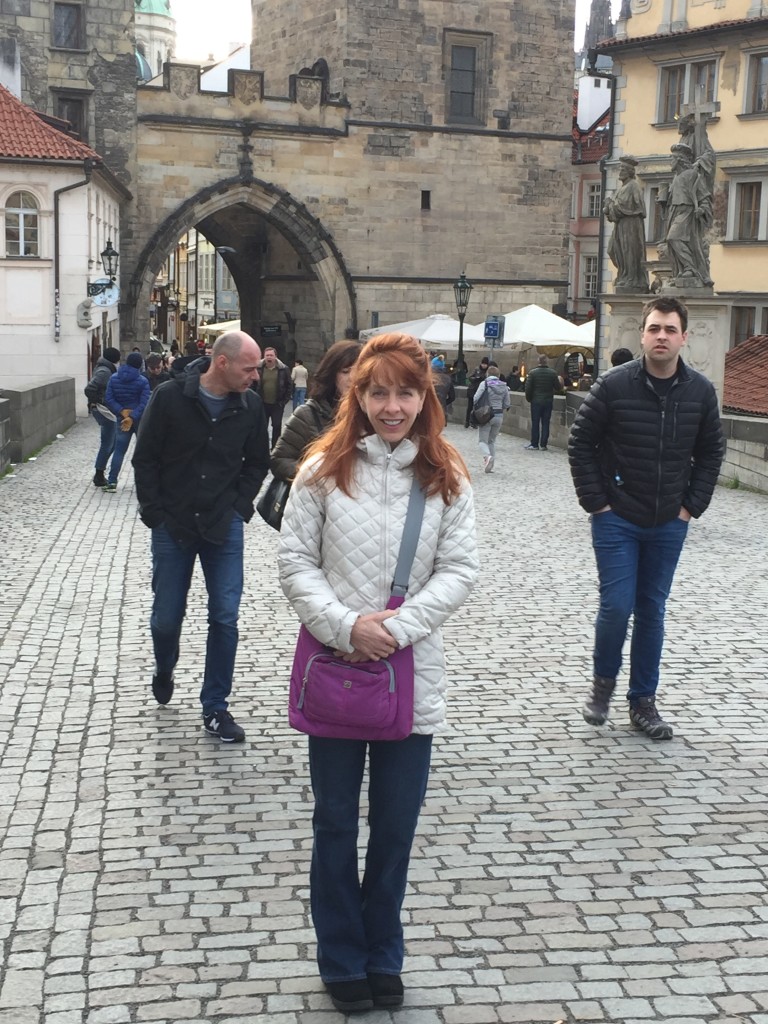 Letting yourself get too hungry as a tourist is never a good thing. Every single thing I read about Prague said never to eat anywhere near the Charles Bridge – we'd get mediocre food, poor service and big prices. Well, typical hungry tourists that we were, we popped into a restaurant right off the Charles Bridge. Let me just say, listen to what you read about Prague! The food was actually decent – we both had the typical Czech goulash. In the Czech Republic, the goulash is different than in other parts of the world. This one consisted of lots of savory sauce, beef, a few onions and more bread dumplings than you can wrap your head around. Did I mention that one should believe what they read about Prague?! But at that point, little did I know that bad service is a Czech tradition and usually comes accompanied by a good meal.
After wandering around the Old Town Square and sampling our own bottle of complimentary house wine, we crashed as if we hadn't slept in 24 hours 🙂